By Boniface Mulu
One hundred and fourty nine students of the Kitui Catholic Diocese's Saint John Paul II Institute graduated during the institute's second graduation ceremony on Friday, June 24, 2022.
The Institute's Director Father Reverend Robert Mutui congratulated the graduands for reflecting the school's vision of being the source of academic excellence.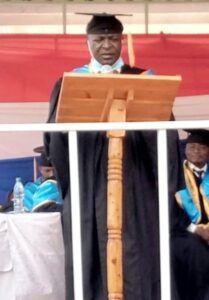 "A graduation is always such a meaningful occasion. My dear graduands we are proud of you. Congratulations," the Director said.
He added that apart from the academic development, the school had also been in the forefront in spiritual formation of the students.
"The institution's vision is to be a source of academic excellence and quality education. When coupled with spiritual nourishment, the school is able to produce a holistic person ready to serve the nation," Mr Mutui added.
The head of the Kitui Catholic Diocese, the Right Reverend Bishop Joseph Mwongela extended his congratulations to the graduands asking them to research and expand their skills so as to get ahead in their respective industries.
The Chief Guest, Lawyer William Ikutha Maema urged the graduands to be mindful of their actions and the impact to themselves, those around them and the society as a whole.
While lauding the Kitui Catholic Diocese Bishop Joseph Mwongela's exemplary leadership, the lawyer told the graduands to be eager to continue learning as there is no end.
He warned the graduands to be ready to tackle the very challenging and very competitive outside world.
The middle level college that was started up in 2015 has two campuses – the school of business and the school of engineering and boasts of more than 300 students.
The college has 15 teaching staff led by the Manager Lawrence Mutua and a total of five non-teaching staff.