By Boniface Mulu
148 Form One students from eight of the Kitui County's 18 Sub-counties have benefited from the 2022 Elimu Scholarship Programme.
The eight Sub-counties are: Kitui Central, Kitui West, Matinyani, Mutitu, Nzambani, Kisasi, Katulani and Lower Yatta where the beneficiaries were officially flagged off at the Kitui Township Africa Inland Church (AIC) on Tuesday, May 17. The local (Kitui Central) Deputy County Commissioner (DCC), Koinary Saidimu, was the chief guest at the ceremony where the DCC was representing the County Commissioner, Mbogai M. Rioba, at the function.
The beneficiaries, who did the Kenya's 2021 Kenya Certificate of Primary Education (KCPE), are among 627 applicants from the eight Sub-counties who had applied for the programme's scholarships.
They were selected by the programme from a total of 200 interviewees. The Elimu Scholarship Programme is by the Kenya's government through the Education Ministry and it is funded by the government, the Equity Group Foundation, the World Bank and the Master Card Foundation.
In his speech to the beneficiaries, parents, guardians and teachers among other education stakeholders, the Equity Bank Kitui Branch Manager, Francis Kyalo Mbindyo said: "It is my honour  to welcome you all here today as we see off the 2021 class of the Elimu Scholarship Programme to their respective secondary schools in the country.
"Our children were amongst the worst hit by the COVID-19 pandemic as they had to re-adjust to a new calendar system and almost had to do a crush programme. Despite the new normal, the scholars adopted well and that is why we are here today."
On his part, DCC Koinary Saidimu, who was the chief guest, highly thanked the event's organising committee for the good work.
"I want to officially hand over this team (the beneficiaries) to the Equity Bank, parents and guardians," Saidimu said.
He also congratulated the children for getting this opportunity, asking them to use it properly.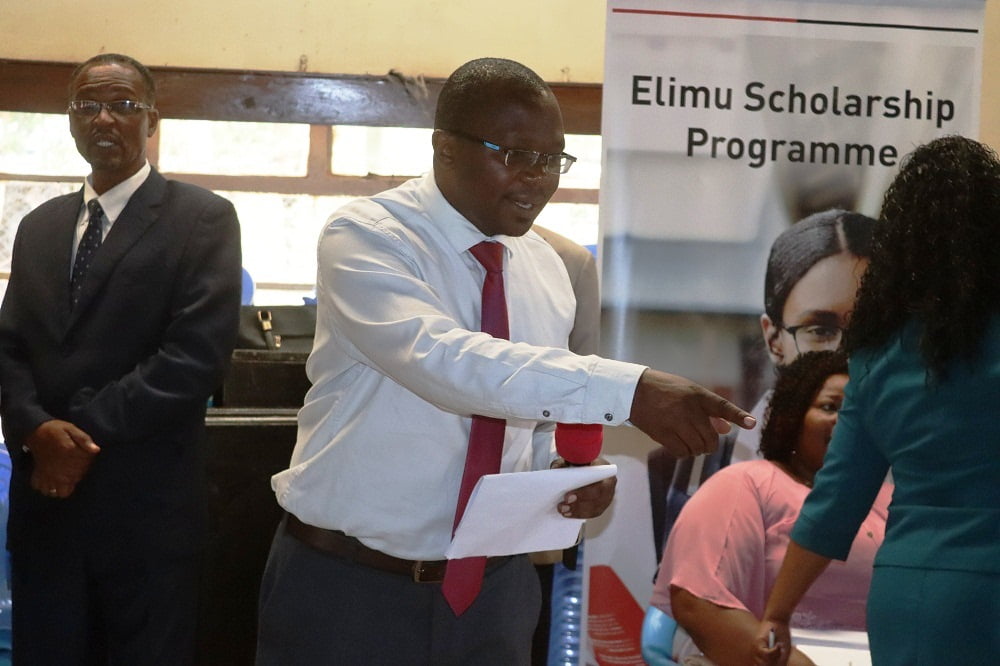 The Kenya National Union of Teachers (KNUT) Kitui County Executive Secretary, Simon Mutunga Nding'o, who also addressed the occasion, thanked the Equity Bank for coming up with the Wings to Fly Scholarship Programme in the country.
"This is a very important thing. Educating the children is a collective responsibility; the Equity Bank can't educate all the children, the community can't educate all the children and the government can't educate all the children," the KNUT official said.
Nzambani Sub-county Director of Education, Alex M. Sharamo, also addressed the ceremony among other education stakeholders present.
Kitui Central Constituency Member of Parliament, Dr. Benson Makali Mulu, was represented at the event by the Constituency Development Fund (CDF) Manager, Benjamin Kinyalili.